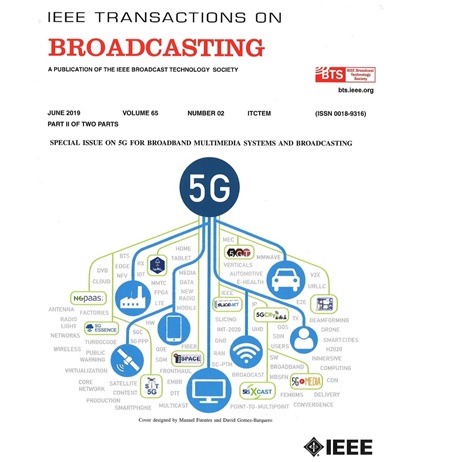 Deploying a novel 5G-enabled architecture on city infrastructure for UHD and Immersive Media production and Broadcasting
Once again 5GCity partners led by the University of Bristol and i2CAT (Carlos Colman-Meixner, Hamzeh Khalili, Konstantinos Antoniou, Muhammad Shuaib Siddiqui, Apostolos Papageorgiou, Antonino Albanese , Paolo Cruschelli, Gino Carrozzo, Luca Vignaroli,  Alexandre Ulisses, Pedro Santos, Jordi Colom, Ioannis Neokosmidis, David Pujals, Rita Spada, Antonio Garcia, Sergi Figuerola, Professor Reza Nejabati, and Professor Dimitra Simeonidou) achieved an important milestone in July 2019 by publishing the article "Deploying a Novel 5G-Enabled Architecture on City Infrastructure for Ultra-High Definition and Immersive Media Production and Broadcasting" in the prestigious scientific journal IEEE Transaction on Broadcasting; special issue on 5G for Broadband Multimedia Systems and Broadcasting  from the Broadcasting Technology Society (BTS) of the Institute of Electrical and Electronical Engineering (IEEE).
The article introduces the progress of the H2020 5GCity project toward the designing, developing, and deploying of a sliceable, distributed cloud/edge and 5G enable radio platform with neutral hosting capability for key media Use Cases (UCs) namely related to "video acquisition and production at the edge," "immersive services," and "mobile production and transmission". In additional it describes how the developed platform and media UCs will be deployed and validated in three cities (Bristol, Lucca, and Barcelona), through real citywide pilots.
An example of ongoing deployments from the 5GCity project in Bristol is introduced and described, then followed by a series of Key Performance Indicators (KPIs) and validation methodologies. These are adopted by the project in order to demonstrate the benefits of 5G Neutral Host for infrastructure owners and media service providers.