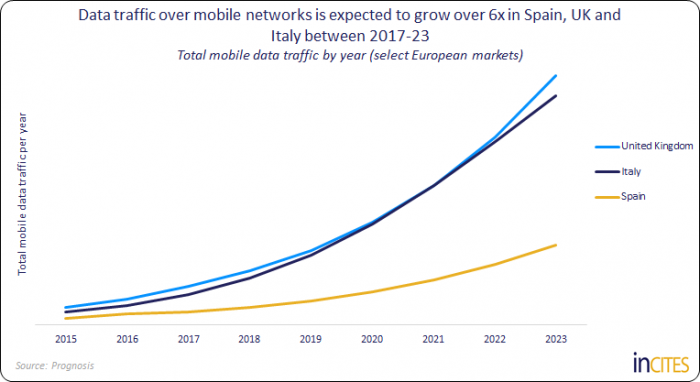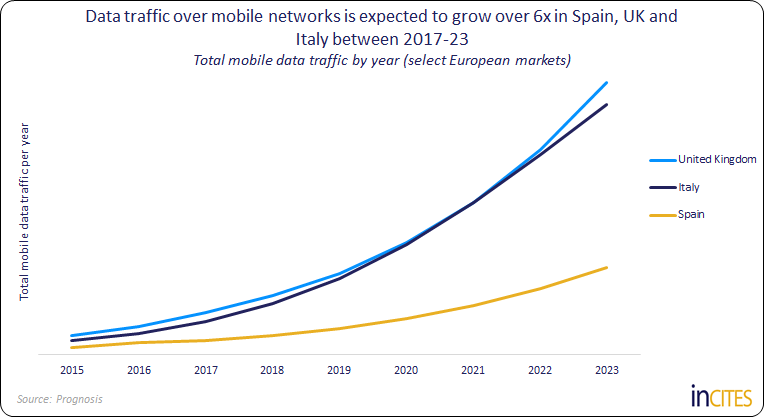 The 5GCity Neutral Host Model
By Ioannis Neokosmidis, Theodoros Rokkas, Dimitris Xydias, CFA – inCITES Consulting
Traditionally, mobile networks are designed as a set of macrocells that provide radio coverage to a large area. In the last years, however, mobile data traffic is experiencing an explosive growth stemming from the use of bandwidth-starving applications driving the evolution of mobile networks and vice versa. inCITES Consulting estimates that mobile data traffic is expected to grow at a CAGR of 36.2%, 35.5% and 39.7% in UK, Spain and Italy (countries hosting 5GCity deployments), respectively, between 2017-23 (Figure 1).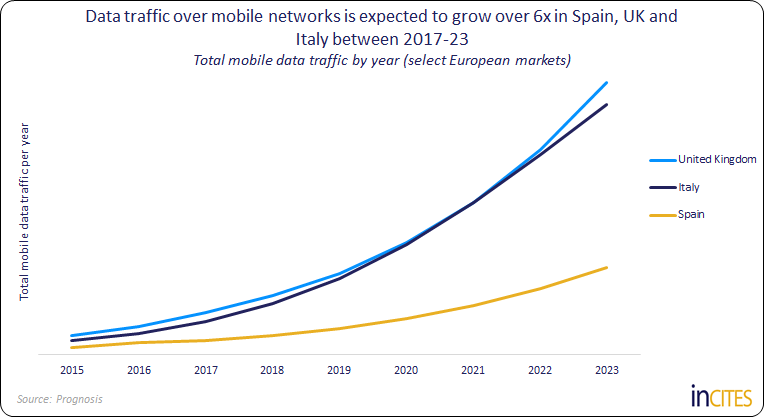 Figure 1: Total mobile data traffic in 5GCity pilot countries
To address the increasing demand for capacity and to meet the users' need for higher data rates, coverage and quality of service, operators resort to network densification by installing more base stations. The need for densification will increase further with 5G which is expected to bring a remarkable increase in data traffic. 5G mobile networks are expected to be heterogeneous networks consisting of a mix of macrocell sites, denser than those for 4G, to provide wide area coverage, and small cells to improve localised coverage and increase capacity. Enabling the deployment of small cell networks requires streamlined federal, state and local permitting, rights-of-way, application submission timelines, application fees, application review timelines and appeals processes to make it economically feasible for operators to deploy 5G across communities.
To avoid further congestion to the already-congested masts in dense urban environments and to make 5G deployment more economically efficient in remote areas in which operators are not willing to invest, due to the non-economical business case, 5GCity consortium has developed a solution based on the so-called Neutral Host model to address this market gap. The Neutral Host model, as the name suggests, combines two important concepts, those of 'hosting' and 'neutrality'. In this deployment model, an independent player, deploys and operates the network (through self-operation or outsourcing) and then provides wholesale access to those interested in providing their services. Depending on the level of involvement of the Neutral Host to operating the network, there exist different Neutral Host models. A comparison between the NH and traditional models is shown in Figure 2.
Figure 2: Network deployment models
Building on the Neutral Host principals, the 5GCity consortium has developed a distributed cloud and radio platform for stakeholders interested to play the role of the Neutral Host.
The value proposition of the 5GCity Neutral Host is as follows:
5GCity Neutral Host develops and provides "network slices" consisting of a set of virtualized resources that share the same physical infrastructure to different tenants;
5GCity Neutral Host goes one step further providing an SDK tool that allows developers to create network functions and services and service providers to combine pre-existing functions in order to develop new services;
5GCity RAN architecture innovates with multi-RAT function disaggregation, enabling SDN-based virtual RAN slicing and RAN function virtualization for LTE and Wi-Fi;
5GCity Neutral Host provides edge computing capabilities enabling ultra-low latency, high bandwidth and real-time access to radio network information that can be leveraged by applications;
Both infrastructure and services dashboards provide advanced functionalities (e.g. billing) offering increased flexibility to mobile operators and other interested parties motivating them to adopt the Neutral Host model.
The 5GCity Neutral Host is flexible enough to be able to adopt subscription fee or more dynamic (e.g. pay-as-you-go, per core, per function/service) charging schemes.
The 5GCity consortium pays special attention to the role of local municipalities and venue owners (such as Stadium or Concert Hall owners) as Neutral Hosts and is running three test beds around Europe (Bristol – UK, Barcelona – Spain, Lucca – Italy) whereby local municipalities are heavily involved in the process. 5GCity consortium believes that the role of municipalities in 5G network deployment and densification is further heightened if one considers their role as issuers of permit, rights-of-way and infrastructure owners. Finally, 5GCity consortium has proposed a number of regulatory interventions necessary for both the proper operation of the NH model and the facilitation of 5G network deployment.