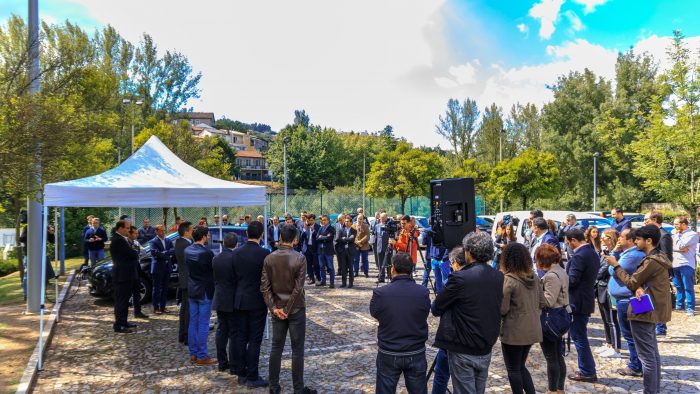 The unveiling of 5G Ready Smart Urban Furniture and deployment of a Media Use Case
By  @Pedro_Diogo 
---
On June 06th, Ubiwhere and Accelleran, partners of the 5GCity consortium, have jointly installed, in the city of Guimarães, Portugal, a new kind of multi-tenant and multi-technology street urban furniture, offering Neutral Hosts the chance to use common multi-purpose streetlight poles to provide cellular infrastructure and connectivity.
The Smart Lamppost (http://smartlamppost.com) solution, co-developed by Ubiwhere, has integrated both an Electrical Vehicle Charging Station, alongside a fully functioning LTE network, made possible by Accelleran's E1000 Small Cells and Accelleran RAN/vRAN solutions.
The unveiling of the solution took place during the kickoff of "Guimarães 5G Ready" project – a long-term vision of the city of Guimarães to digitalise common infrastructure to build a network of connected things, empowering new businesses and universities, accelerating the research and development of new and innovative services.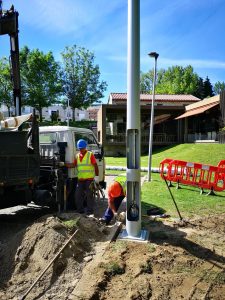 Source: Ubiwhere – Smart Lamppost – The Installation process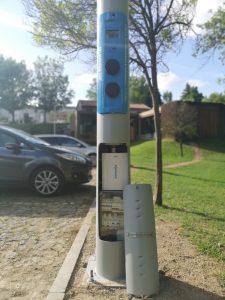 Source: Ubiwhere – Smart Lamppost – Multi-tenant & multi-technology solution (EV Charging & Telco modules)
To showcase the deployed network, Ubiwhere was granted a temporary licence to operate in the licensed 3.5GHz frequency (B42), and a media use case was deployed, following the same architecture as that of the project's Use Case #5 ("Mobile Backpack Unit for Real-time Transmission").
For this, two different network stations (TVI and Kuriakos TV) were invited to cover not only the unveiling itself, but also the parallel UEFA Nations League Finals, using the LTE network. This major event, hosted by UEFA and the municipality, took place on the 6th (semi-finals) and 9th June (match for third place) with thousands of fans visiting the city. The deployed LTE network covered the whole dedicated outdoors fan zone created specifically for this event; unfortunately, due to bad weather, the fans had to be moved to another location. However, during the second day, the unveiling was a success, and Kuriakos TV broadcasted the unveiling of the Smart Lamppost solution, using Ubiwhere's adapted mobile media streaming solution and Acelleran's Neutral Host Small Cells and RAN/vRAN Solutions enabled with dRAX™ Control Plane RAN intelligence.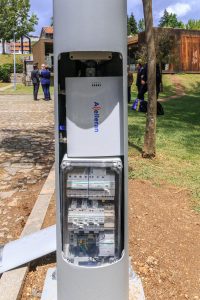 Source: Ubiwhere – Smart Lamppost – Accelleran's Small Cell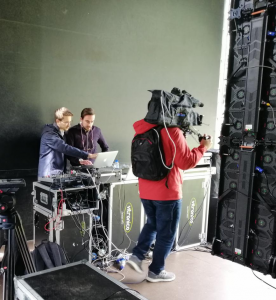 Source: Ubiwhere – Camera connected to laptop (backpack) via ethernet
relaying data via Huawei MiFi dongle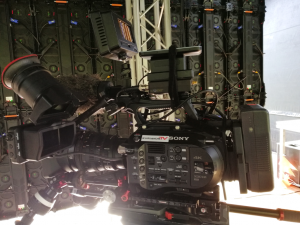 Source: Ubiwhere – Camera with Huawei MiFi device (B42) attached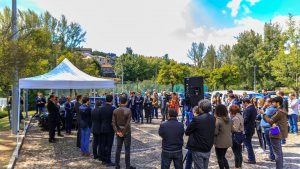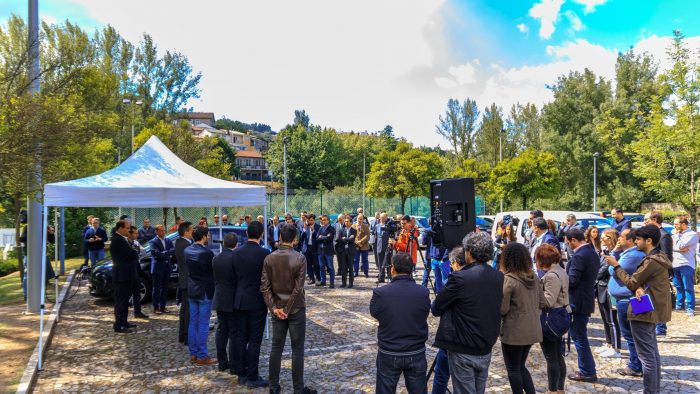 Source: Ubiwhere – Guimarães 5G Ready Event – Project unveiling & Mayor's speech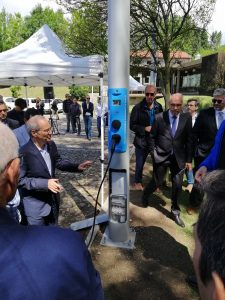 Source: Ubiwhere – Guimarães 5G Ready Event – Mayor's at the Smart Lamppost
This is a clear example of the concept that is been developing in the 5GCity – EC H2020 project by the consortium since 2017; the design, development, deployment and demonstration, in operational conditions, of a distributed cloud and radio platform for municipalities and infrastructure owners acting as 5G neutral hosts.
In this specific case, an example of business model that can be implemented and exported in other Cities may benefit from the Neutral Hosting model, effectively monetizing their investment on common streetlight poles.
Through Small Cell densification and 5G virtualization technology, Cities can re-invent how telco infrastructure is deployed and how a widely available 3-Tier 5G architecture network may be deployed at street-level. Different Mobile Network Operators, using Accelleran's disaggregated and virtualized dRAX™ Control Plane RAN Intelligence enabling Neutral Hosts may take advantage of this network and Service Providers (such as TVI and Kuriakos TVI) may be able to, as in this case, broadcast live high-quality media, anywhere.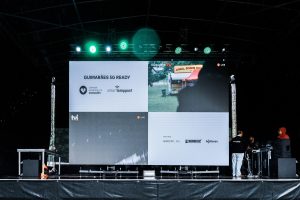 Source: Ubiwhere – adapted media Use Case (Mobile Backpack Unit for Real-time Transmission)
using Accelleran's RAN/vRAN network solutions
Through this initial experiment and deployment, Ubiwhere and Accelleran hope to, in the future, accelerate the deployment and rollout of new 5G networks. The overall goal is to provide a framework for Operators and Neutral Hosts to easily re-use not just the same infrastructure (smart street urban furniture), but also to share the RAN, through's Accelleran's MoNeH (Multi-operator Neutral Host) solution and Ubiwhere's developed Smart Lamppost platform for infrastructure and equipment sharing with built-in lease management, alarming monitoring and billing system.
Succesful 5G network deployment at scale will mandate a massive rollout at street-level, which is facilitated through Smart Lamppost's new infrastructure, Ubiwhere's accompanying platform and Accelleran's virtualised solution for flexible and cost-effective rollout and deployment. These quality of integrated exploitation activities between 5GCity partners and the entire 5G ecosystem are highly encouraged and recommended as exchange of knowledge, technical achievements and new business model as desired final goal.