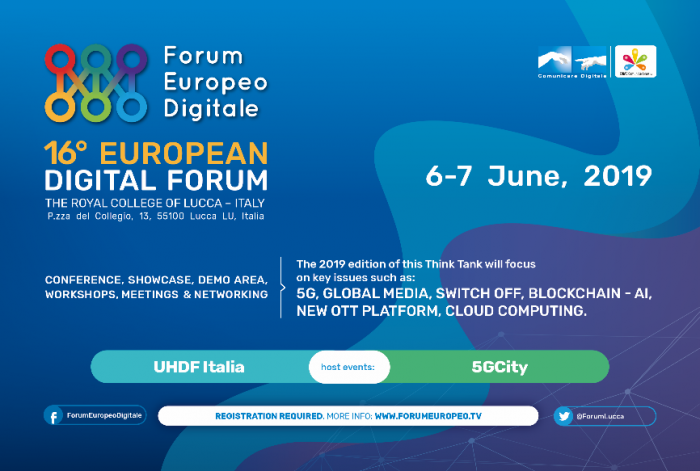 5GCity – Transforming Cities into 5G Neutral Hosts 5G Live Broadcasting announced

The 16th edition of European Digital Forum – 6 and 7 June, Lucca (IT), is ready to set the scene in the evocative Real Collegio of Lucca. This 2019 edition renews a further leap forward for themes, speakers and new scenarios, including 5G, UHD/4K, STREAMING, GLOBAL MEDIA, VR / AR.
The 5GCity Consortium will be participating also this year at the event with a bold series of activities: panel discussions with the 5G and Media communities convened in Lucca, showcasing of new demos and a new live outdoor trial based on the 5GCity infrastructure deployed in Lucca. These activities aim to strengthen 5GCity collaboration with Media Verticals and the 5G business ecosystem, setting Lucca at the forefront of 5G activities in Italy.
The 5GCity project is developing a distributed cloud and radio platform for municipalities and infrastructure owners acting as 5G Neutral Hosts. It is a completely de-centralised 3-tier architecture where compute, storage and networking are allocated between core and edge segments of the 5G network infrastructure. On top of this distributed infrastructure, we provide unified control and orchestration of all the radio-edge-core resources, through powerful APIs and serviced design toolkits for innovative vertical application services, e.g. to program connectivity with QoS, implement flexible media acquisition, transcoding, etc. Our 5G Network Slicing and Service Orchestration technologies are used in live city pilots in the cities of Barcelona (ES), Bristol (UK) and Lucca (IT) to run trials of Media Verticals use cases which will assess how a Neutral Host operator can offer mobile connectivity solutions on demand to implement dedicated network slices for different media services in areas with a high concentration of users.
5GCity's activities at the European Digital Forum are illustrated in the following Agenda:
EXHIBITION BOOTH
Thursday 6 and Friday 7 June 2019
In this exhibition booth we plan to showcase how easy is to transform city infrastructures in 5G Neutral Hosts and how powerful and flexible the 5G service design and lifecycle management is with 5GCity platform. We plan to show to the international audience and broadcasters the 1st complete release of 5GCity platform, integrated and in support of a few relevant media use cases in a near real-life scenario. Furthermore, we will also present its 5G Neutral Host business modelling approach at the exhibition booth.
At the Booth it will be possible to test our demos (detailed next), discuss achievements with our technical team and collect information about our latest activities in particular for Lucca pilots.
DEMOS-TESTS
5GCity demonstrations at the European Digital Forum will consist of outdoor and indoor activities around the conference centre, distributed between the 5GCity exhibition booth and two main city locations: Torre Guinigi and Puccini's Museum.
The 5GCity team will show different media use cases running on heterogeneous slices on the shared infrastructure managed by the 5GCity platform.
INDOOR ACTIVITIES
5GCity will present three demos at the booth:
5GCity Neutral Host Platform: This demo shows how the 5GCity neutral host platform enables an ICT infrastructure owner to slice and lease its infrastructure to 3rd parties (e.g. MVNO).
Video Acquisition & Production: This demo includes acquisition of live high-quality multiple videos from the event and streaming through 5GCity platform. Such services also can support the engagement of public in the media production for big events.
Augmented Reality service: This demo offers immersive experiences with distribution of UHD contents for city services. The demo leverages on 5G orchestration to offer immersive experience to end-user (e.g., tourists) who can see a reconstruction of antique city buildings and monuments in real-time with enriched context information superimposed via holographic models.
OUTDOOR ACTIVITIES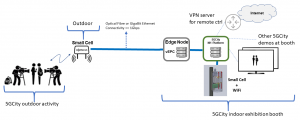 Interesting activities will be organized by 5GCity in two outdoor settings:
Torre Guinigi, the tallest tower and iconic symbol of Lucca with its oak trees growing on roof top. Comune di Lucca, Nextworks, Cellnex, Comunicare Digitale will use the 5GCity platform deployed in Lucca and the availability of small cells to connect Torre Guinigi with Real Collegio, to implement a 5GCity LIVE BROADCASTING TRANSMISSION to European Digital Forum Conference stage. Establishing a LIVE CONNECTION with interviews, comments and 5G project presentation, to demonstrate the 5G opportunities for broadcasters, media company, producers, digital and creative industry.
Puccini's Birth Home and Museum, the heart of a unique Museum complex of the great composer, where Italtel and RAI have design and implemented the applications used in Immersive Video Services, including real time 360° video distribution, Augmented and Virtual Reality and 4K video distribution in crowded events.
Through this 5GCity-powered outdoor broadcasting events we will demonstrate the high portability of our 5GCity Neutral Host solution along with showcasing one key media use case for 5G in the city.
5G INDEX EUROPE
Thursday, June 6 16:40 – 17:00 (Plenary)
With Ioannis NEOKOSMIDIS (Incites, Luxembourg)
5G BROADCASTING & 5G MEDIA VERTICAL
Thursday, June 6 17:15 – 17:45 (Plenary)
With Alberto MORELLO (Rai CRITS, Italy)
During the European Digital Forum important announcements will be made in relation to 5GCity project; an important and fundamental step in Lucca to transform city infrastructures in 5G Neutral Hosts and demonstrate how powerful and flexible the 5G management can be within the 5GCity platform.
The Forum Lucca 2019 complete Agenda
---
More info:
www.5gcity.eu; @5gcity; info@5gcity.com
Shuaib Siddiqui
shuaib.siddiqui@i2cat.net
+34 638 687 554
Gino Carrozzo
g.carrozzo@nextworks.it
Carla Bressan
bressan@comunicaredigitale.it
+34 606 516 106