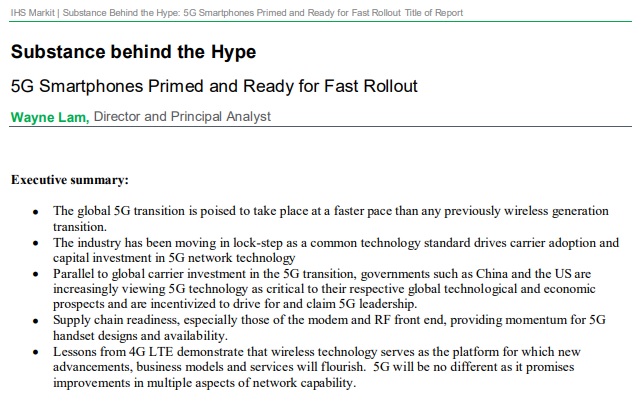 5G transition will come faster
IHS Markit released a very important announcement about 5G deployment in the next future.
According to the important analysis company, the new revolution is faster than what we could suppose and can count on much more interesting development elements.
The global 5G transition is poised to take place at a faster pace than for any previous wireless generation transition, says business information provider IHS Markit.
In its latest complimentary white paper, "Substance behind the Hype: 5G Smartphones Primed and Ready for Fast Rollout," IHS says we should beware of confusing momentum with hype.
"It is easy to paint the current momentum behind 5G as the usual pre-launch hype drummed up by vested stakeholders," said Wayne Lam, principal analyst for IHS Markit and lead author of the white paper. "However, the mobile industry is fundamentally better prepared and more aligned with a common standard than at any previous technology transition."
Industry uncertainly adds friction to development and discourages firms from making big bets when the outcome is less than certain. While past wireless technology upgrades had competing standards vying for industry attention, there is no doubt about the air interface standard that will be used for 5G. "The 5G electronic ecosystem is significantly more mature, at this point, compared to the same time during the LTE transition," Lam said. "Key 5G chipsets have been tested, proven and designed into devices, and the industry is now poised to deliver their first 5G smartphone in early 2019."
"As telecom companies embark on the start of another wireless generation transition, they are doing so with a robust and coordinated ecosystem of carriers, handset makers and component suppliers," Lam said. "By and large, the industry is finding itself with an unprecedented opportunity to execute a wireless transition in the best position possible."