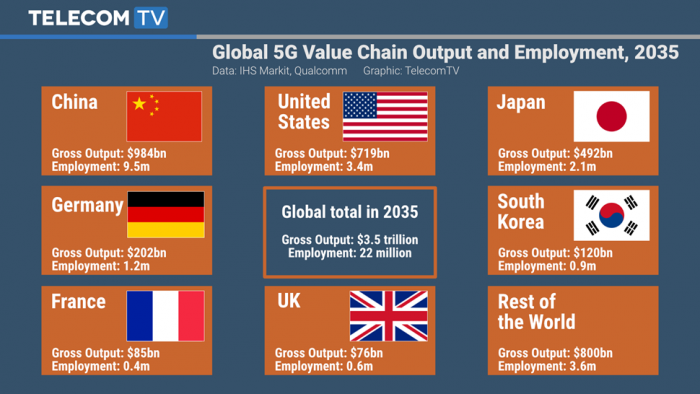 2025: the year of 5G entertainment
2020 might be the year 5G hits the mainstream but 2025 is the year we'll see it start to reach its full potential in the media and entertainment industry. Video is the fastest growing type of traffic today and it is forecasted to grow 45 per cent annually, right through to 2023. In an Ovum report commissioned by Intel, it is forecast that over the next decade (2019 – 2028), media and entertainment companies will be competing to win a share of a near $3 trillion wireless revenue opportunity – but what does this mean for the UK?
5G will be the driving force behind this wireless revenue opportunity, expected to account for nearly half. We will start to see a huge shake up within the media and entertainment industry, from the way we consume content to more creative live immersive experiences for fans.
How media demand will drive the network evolution
By as early as 2025, 57 per cent of global wireless media revenues will be generated by using the super-high-bandwidth capabilities of 5G networks and the devices that will run on them.
The UK will be able to livestream large downloads in the blink of an eye. This will ultimately drive and accelerate content consumption, including mobile media, mobile advertising, home broadband and TV, improving experiences across a broad range of new immersive and interactive technology such as augmented reality (AR) and virtual reality (VR).
Expanded AR and VR experiences will have the ability to enable a whole new channel for content creators, reaching a brand-new audience due to there being less of a 'trade-off' between quality and speed when it comes to streaming.
The expected average monthly traffic per 5G subscriber will grow from 11.7GB in 2019 to 84.4GB per month in 2028, at which point video will account for 90 per cent of all 5G traffic. Applications and opportunities that are pretty much non-existent now will reach an unprecedented scale by 2028, forecast in the report to grow the media landscape more than $67 billion annually – the value of the entire current global media market in 2017.
How are brands tuning into 5G?
In five years, 73 per cent of all mobile data traffic will be media driven mainly by streaming. The UK will go from a culture of downloading to a culture of streaming on mobile devices.
Intel has partnered with some of the world's biggest media brands to explore new models and use cases focused on delivering rich, new experiences for people such as sports and movie fans. Warner Bros. Entertainment is planning on utilising 5G and mobile-edge-computing (MEC) technology, running on Intel to deliver new services such as enhanced location-based entertainment and gaming with multi access players. Intel's MEC will turbocharge the user experience for AR, VR and gaming content consumption – reinventing the future of the landscape.
Early this year, Fox Sports, Fox Innovations Labs and Intel took part in the world's first use of 5G for a live golf broadcast during the US Open. Fox Sports incorporated Intel's 5G technology into its legacy architecture which allowed it to transfer large amounts of data at low latency which removed the cost of running fibre around the golf course.
From large scale media brand innovations, right through to enhanced content produced by creators, 5G will pave the way for new and fresh experiences globally. Intel is no longer just 'inside' your computer; Intel's technological innovation is expanding to 5G network, consumer and industrial applications and the cloud and beyond.
Alex Gledhill is Technical Specialist, Intel