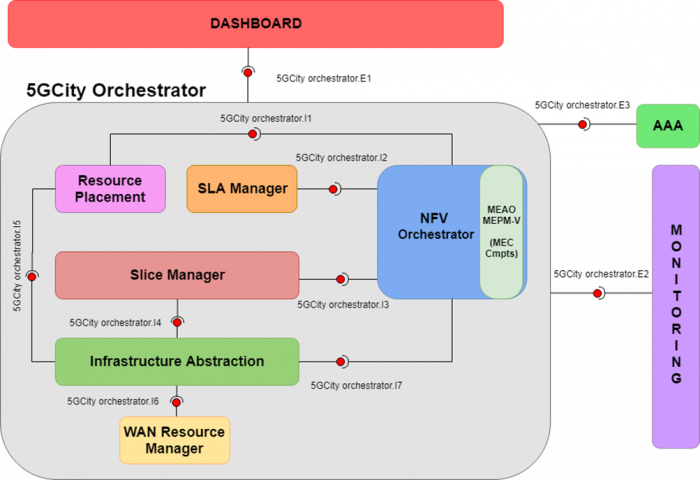 5GCity NFV Orchestrator Platform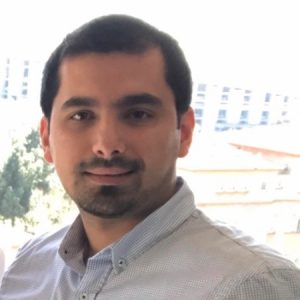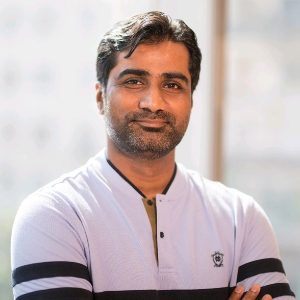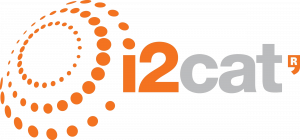 Hamzeh Khalili                           Shuaib Siddiqui
With the emergence of 5G, a radical change on the information and Communication Technology (ICT) is observed. Networks are evolving quicker than ever toward smart systems featuring low latency, huge traffic volume and higher data rates. 5G promises to deliver low latency and high bandwidth to a diverse set of services and emerging application, and the billions of new devices that are coming online. This will require the development of massive, powerful heterogeneous infrastructure capable of handling complex operation to support the increasingly less predictable traffic and resource patterns. Improving the flexibility of network management is a key requirement of 5G, and Software Defined Networking (SDN), Network Slicing and Network Function Virtualization (NFV), due to network programmability capabilities, are considered as key components of 5G technology, as well as cloud-enabled solution promises effective means to realize future communication goals. With the help of softwarization techniques and cloud/edge processing capabilities, benefit such as increased resource pooling, scalability, layer interworking, and spectral/cost efficiency are achievable.
In such a diverse ecosystem, a management and orchestration layer is essential to empower network operators to flexibly/automatically manage network elements and services. 5GCity defines how to turn a city into a distributed and multi-tenant edge infrastructure, which uses orchestration and service programming to integrate 5G services administered by a neutral host.
For this, an investigation on existing NFV-based orchestration platforms has been performed in order to see if there is a possibility to build upon existing functional modules and integrate edge computing and 5G networking aspects with traditional orchestration workflows. Among others, we have analysed platforms like, Tracker, TeNoR, OpenBaton, Cloudify, ONAP, SONATA and Open Source MANO (OSM) in order to leverage 5GCity orchestration platform on one of the existing orchestration tools. Based on the analysis, ETSI OSM has been chosen to be utilized and extended as a 5GCity orchestration platform. ETSI OSM features over other orchestration platforms are:
Fine-grained architecture.
Open source platform with standardized interfaces.
Supports the addition of other types of VIM, SDN controller and monitoring components.
Multi-VIM and multi-cloud environments extension.
Integration of multiple SDN controllers.
Widely adopted in 5G research projects.
Regular software update (i.e. every 6 months).
High availability of software and code documentation.
Orchestrator and Control layer is the core management layer in the 5GCity architecture, which is implemented by the 5GCity platform. This platform operates large number of devices in dynamic conditions (e.g. network, device overload, multi-tenancy, to name a few possibilities) in an efficient manner.
The 5GCity orchestration platform is responsible for the lifecycle management and orchestration of all 5G-based edge services and for the control and management of the available city edge infrastructure. It also includes 5G edge service-programming models, as well as a northbound API to enable access to the different edge services and the orchestrator functionalities. The 5GCity orchestration platform includes four main functional blocks:
A Dashboard represents the entry point to the system, used by administrators of the cloud-like 5G infrastructure to connect to the orchestrator functionality through northbound API (Application Programming Interface). It provides capability to deploy end-to-end services upon the city edge infrastructure. The dashboard will hold different views to enable multi-tenancy by allowing different roles and capabilities for each user or tenant (e.g. super user, tenant administrator, external user).
A 5GCity Orchestrator represents the core functionality of the architecture, which provides the capability to 1) manage a non-homogeneous set of physical resources (i.e. computing, storage, wired network and wireless network); 2) abstract physical resources; 3) operate a horizontal slicing thus providing inherent; and 4) cast end-to end services tailored to a multitenant framework. The 5GCity orchestrator comes with following components:

NFV Orchestrator is accordance with the ETSI OSM model, extended to support all components and functionalities of the 5GCity Orchestrator. It is also responsible for NS on boarding and VNF management, as described in the ETSI NFV specifications.
MEC Components is responsible to orchestrate VNFs MEC (Multi-access Edge Computing) by using the MEC descriptors instead of the VNFD, as well as interact with special edge services (e.g. location services).
Resource Placement is responsible for computing an optimal allocation of VNFs over different physical resource domains.
SLA Manager maintains an acceptable level of Quality of Service (QoS) between a service provider and a customer.
Slice Manager is responsible to cover end-to-end service provisioning, management, termination and operation workflows on a per-slice basis. The slices will be dynamically allocated in the network and on the Multi-access edge, extending through the radio infrastructure.
Infrastructure Abstraction enables communication between 5GCity orchestration platform with the multiples underlying infrastructure elements such as VIMs (i.e. Core VIM, Edge VIM, and Extended Edge VIM) and WAN parts (i.e. SDN controller, fronthaul network and backhaul network).
WAN Resource Manager is responsible for managing resource of the lower layers, and especially for configuring the traffic flows among them.

A Monitoring component collects and processes runtime performance and status data from the resources and services.
An Authentication, Authorization, and Accounting (AAA) component performs the required security-related tasks.
The Dashboard and the Monitoring tightly interact with the 5GCity Orchestrator and are very important for the orchestration procedures, but they do not belong to the architecture or the scope of the 5GCity orchestrator platform.
The first release of 5GCity orchestration platform is currently under development and will be available by Q1, 2019.