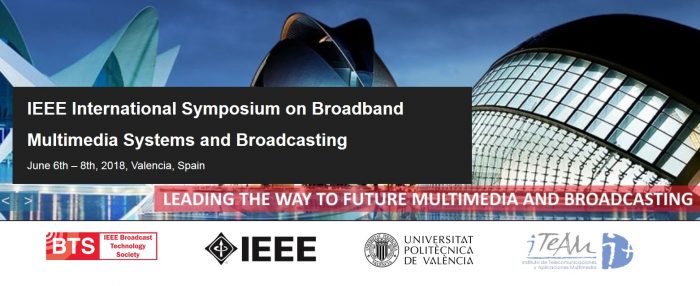 IEEE BSMB – Valencia 5GCity
5GCity: A novelty in the Sliceable Radio, Neutral Host model, and Street Deployment of 5G networks
During the 13th IEEE International Symposium on Broadband Multimedia Systems and Broadcasting 2018, –IEEE BSMB 2018, a very important appointment for the presentation and exchange of technical advances in the rapidly converging areas of multimedia broadcasting, telecommunications, consumer electronics, and networking technologies, held form June 6th to 8th Valencia, Spain, the EU Horizon2020 5G-PPP Phase 2 projects: 5GCity project presented the paper: "5G City: A novel 5G-enabled architecture for ultra-high definition and immersive media on city infrastructure", in a very special track reserved for 5G-PPP.
The 5GCity project aims to solve the rapid adoption of cutting edge media services such as ultra-high definition (UHD/4K) video and immersive media i.e, virtual and augmented reality (VR/AR), that will demand large investments in a scalable, ubiquitous, and robust communication infrastructure and services.
The project is designing, developing, and deploying a sliceable, distributed cloud & edge and radio 5G-platform with neutral hosting capability to support the sharing between information technology (IT) infrastructure owners and media service providers i.e., vertical media actors. 
The paper "5G City: A novel 5G-enabled architecture for ultra-high definition and immersive media on city infrastructure" presented by Carlos Colman-Meixner – Senior Research Associate High Performance Networks Group University of Bristol, and Co-authored by Carlos Colman-Meixner, Pedro Diogo, Muhammad Shuaib Siddiqui, Antonino Albanes, Hamzeh Khalil, Alex Mavromatis, Luca Vignaroli, Alexandre Ulisses, Jordi Colom, Reza Nejabati, and Dimitra Simeonidou, discusses how 5G technology will facilitate the rise of highly demanding media use cases and its implication on how service providers typically operate (in terms of business model).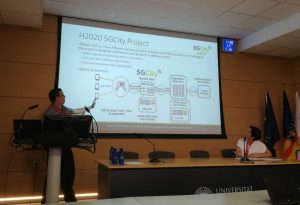 Source: Carlos Colman–Meixner – Senior Research Associate University of Bristol
The paper introduces the 5GCity's architecture, while presenting how three media-related use cases will be deployed in different European Cities: Barcelona, Bristol and Lucca. It gives the project's architecture, underlying neutral host paradigm as to understand the benefits of such model for infrastructure owners and media service providers.
Through 5GCity's platform, several dedicated network slices will be deployed, through NFV, offering dedicated 2-8 Mbps fronthaul links in a multi-RAT environment. With these networks, end-users will be able to connect to different WiFi access points and even Small Cells (LTE/5G) and leverage the low-latency communication link between edge applications and those running at 5GCity's core network.
The project is covering three 5GCity media related use cases 
– UC#1: Real-time video acquisition and production in the edge cloud:  
Video acquisition and production, supporting the broadcasting and live events can achieve optimal user experience and increase opportunities for revenue. UC#1 is designed to provide opportunities for user and community engagement experience in real time events production as the ones provide by Facebook or YouTube.  Crowdsourced video streams (from end-user's cell phones, for instance) will be pre-processed at the edge before being transmitted by a 1 Gbps link to the core or edge datacentre. This UC intends to showcase also how infrastructure owners (venue) can monetise their IT and connectivity investment by renting these edge resources to other third-party entities who need a dedicated connection. Envisioned scenario is very well known to media service providers. As added throughput capacity at the front-haul link is always required during such crowded events. 
– UC#2: UHD video distribution and immersive services: 
The immersive part of the project is designed to allow the end-user moving in a city to obtain additional content related to the surrounding environment (monuments, museums, historic buildings, etc.) by using smartphones and/or VR/AR/MR-like devices. To improve the immersion of the users' experience, will be provided also by the production of video 360°. Thanks to visual similarities, the visual search will allow matching images or videos captured by the user, such as buildings, statues, paintings, with contents already present in databases. Additional content could be automatically retrieved, for example from television archives, in form of 2D video, panoramic video, and 3D models that will augment the reality in which the user is immersed. New UHD/4K contents will be available for the users, in form of "digital pills" in a hypothetical journey that include more information and A/V. This use case requires ultrahigh bandwidth, to carry high quality UHD/4K video signals and a very low system latency, which should enable to implement effective interactive applications. 5GCity architecture facilitates both with its distributed cloud & edge and radio 5G-platform.
-UC#3: Mobile Real-Time Transmission: 
Currently almost all TV stations are using what in popular language is called "backpack unit" for video transmission in remote areas. The backpack unit bundles multiple 4G connection together to transmit the video signal back to the TV station for further processing. The mobile real-time transmission Use Case will demonstrate how the 5GCity architecture will improve the available bandwidth of live connections (real-time transmission) leveraging on the capacity of 5G network. 5GCity system will enable the increase of bandwidth used for live connections, provisioning specific slices with a guaranteed QoS, enabling edge computing processing capabilities for production of video contents at the edge. Furthermore, 5GCity architecture enables required video processing at the very edge instead of at TV station, reducing the high production costs of multi-camera events.
5GCity Neutral Host Architecture and Infrastructure Deploying the UCs.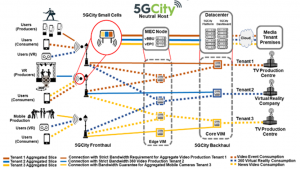 Source: Tesbed- Carlos Colman University of Bristol
The Tesbed shows the deployment of three 5GCity media UCs in a sliceable 5GCity infrastructure consisting a Datacentre, MEC node, and wireless access deployments. The shown infrastructure encompasses compute resources at Datacentre & MEC node and network resources stretching from lamp-posts to the Datacentre. The 5GCity platform and 5GCity Dashboard are deployed at the Datacentre. 5GCity Dashboard is the frontend to 5GCity platform that enables customizable slicing of infrastructure, application service deployment across the slice and access to slice and service controls and management to the slice owner.
Such a three-tier infrastructure setup offers four innovations for media industry: delay reduction, flexibility, integration and collaboration between media production and consumption (i.e., video post-production and broadcasting). Delay reduction is made possible by deploying compute resources at the edge VIM rather than core VIM on the MEC nodes closer to the production and consumption area and 5G fronthaul. Flexibility is enabled by the 5GCity dashboard supported by intelligent resource scheduling algorithm that will configure the slice capacity and availability for any of the tenants as per requirement. In the UC example, TV production and broadcasting companies or any media vertical can request and have a dedicated slice provisioned from the 5GCity platform operator, also assumed to be 5G infrastructure owner. The integration and collaboration between production and consumption is nurtured when the slice is customized to provide optimized content placement (or cached content) and resource elasticity (e.g., additional capacity for slice), not only to aggregate the production but also to improve the QoE of end users or consumers of the video. 
The Illustrative example shows three tenants sharing a 5G neutral infrastructure. The first tenant is the UC#1 that deploys and connects the virtual machines (VMs) in edge VIM and core VIM to host an application for multiple users (e.g., 20-50 mobile phones with 2-8 Mbps UL) acting as producers or recorders of a live event. The VMs at the edge VIM and core VIM will aggregate and synchronize the video contribution in the 5GCity MEC node and host a virtualized video server for processing, switching, and editing in the datacentre which is accessed and operated remotely by TV producers.
This interconnection will demand some large network bandwidth during the event (i.e., ~2 Gbps). Then, for immediate broadcasting or streaming for users or consumers, the producers will use the same slice with additional resources at the edge VIM in the 5GCity MEC node to host and cache video contents populated based on the demand. The flexibility and intelligence of 5GCity Dashboard could allow the fast allocation of more resources (processing and bandwidth) for production in case of an increase in the demand (more users recording the event) or more users requesting to stream.
The tenant 2 is the UC#2 which consist of production and streaming of virtual reality or 360-degree video to users.  Slice#2 will allocate resources for production in a VM at the edge VIM for transcoding, and VMs at core VIM for storing, redistribution and elaboration with the remote intervention of a broadcaster or a virtual reality company. Given that the delay and flexibility demand, the tenant 2 will also request for network resources at all lamp-posts, hooked up with Slice#2 computing resources at edge VIM, to make the processed 360-degree videos available for all the VR users.
The tenant 3 (slice#3) is UC#3 can be the same company of tenant 1 but requesting mobile news or event coverage. In this case, a dedicated slice is defined with guaranteed bandwidth connection with resources or VMs at both VIMs, the edge VIM for camera synchronization and transcoding and the core VIM, for remote video mixing applications, storing, redistribution, and final elaboration. Given that breaking news can happen in matter of hours, the dashboard will be able to slice the infrastructure based on a short period of time. Finally, the resulted video content will be placed in VMs on the edge VIM for consumers or local channels requesting the news or event coverage. The 5GCity dashboard will provide resource allocation and temporary schedule to handle the different demands and avoid collision or any capacity crunch of the shared infrastructure. As a result, 5GCity model will save time and money for small and large TV and media production and broadcasting companies and will also open many opportunities for new services.
As Carlos Colman-Meixner points out: "The 5GCity project counts with a novelty in the sliceable radio, neutral Host model, and in the real street deployment of 5G networks for real trials in Europeans three cities."
Overall, the paper's results and outcomes were well accepted by the public attending the IEEE BSMB 2018 where we received some interesting comments, questions, and feedbacks about MEC, vEPC with SDN protocols and the sliceability in the RAN (LTE).