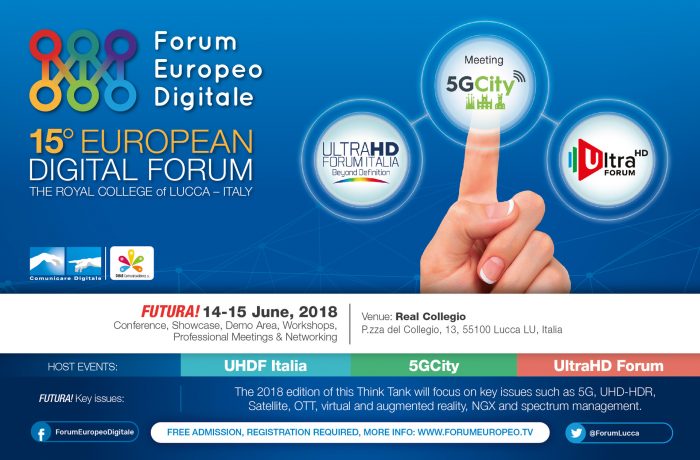 European Digital Forum 15th edition in Lucca – 12 June 2018
The European Digital Forum will celebrate its 15th edition FUTURA! in Lucca -Italy on 14 and 15 June
FUTURA! the 2018 edition of this Think Tank will focus on key issues such as 5G, UHD-HDR, satellite, OTT, virtual and augmented reality, NGX and spectrum management.
Comunicare Digitale, organizer of the European Digital Forum, held annually in the Italian city of Lucca. The 15th edition of this forum will bring together, once again, professionals from all over Europe to discuss the latest trends in the media industry and telecommunications. On June 14 and 15 in the historic Real Collegio of the Tuscan city, the European Digital Forum will offer an extensive program of conferences and professional meetings.
Since its founding in 2004, a total of 539 speakers from 39 countries, 3,733 delegates and 761 European companies have participated in this high-level Think Tank.
The 2018 edition will focus on key issues such as 5G, UHD-HDR, satellite, OTT, virtual and augmented reality, NGX and spectrum management with a new digital dividend in sight. Top level Speakers, experts, professionals will attend; among them: European Commission, DVB, Mediapro, IHS Markit, LaLiga, Sky Italy, Fox Networks Group and United Group.
Comunicare Digitale has renewed its collaboration with Ultra HD Forum Italia, which brings together the main television, media and technology companies, organizing several presentations after the launch of the new UHD Book v.1.0 and the resounding success of the HBBTv Symposium of Rome.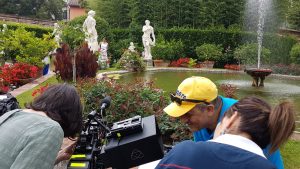 Source: Luca Vignaroli – RAI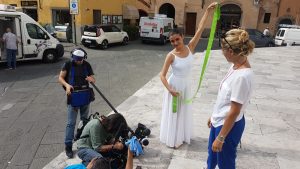 Special attention is given to the 5GCity project. An the Forum, a dedicated Area is being setup where RAI TV Production Centre of Turin crew, with the Comune di Lucca, Giacomo Puccini Foundation and Cominicare Digitale support, will display:
– A short 4K-HDR A/V product to be used for technical distribution tests on the #5G network and a demo video of the @5GCity project.
– A short 360 ° Video as an example of "immersive" experience focused mainly at the Casa Puccini Museum.
The 5GCity project as part of the 5GPPP, the 5G Infrastructure Public Private Partnership, a joint initiative between the European Commission and European ICT industry, aims to solve the rapid adoption of cutting edge media services; such as ultra-high definition (UHD/4K) video, and immersive media; like, virtual and augmented reality (VR/AR), that will demand large investments in a scalable, ubiquitous, and robust communication infrastructure and services.
A wide range of possibilities will be displayed to the vertical media actors, European Digital Forum assiduous frequenters, for the #5G infrastructure deployment that will support the sharing between information technology (IT), infrastructure owners, and media service providers.
Registration for this forum is free, here.
Info
Carla Bressan