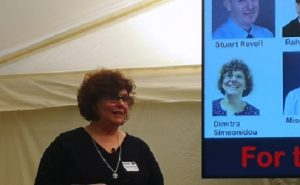 UK 5G testbed ready for action
A government-backed UK 5G testbed will be up and running in April, enabling trials of applications and use cases delivered by the next-generation technology.
The project, which involved the deployment of a pilot network by King's College London, the University of Surrey and the University of Bristol, is backed by £16 million of funding from the UK government. Rahim Tafazolli, a professor at the University of Surrey (pictured), said: "to our knowledge, such facilities don't exist anywhere else in the world".
Tafazolli explained the testbed "connects Bristol, London and Guildford together, and it's got enough capacity to do nationwide trials of applications, use cases [and] advanced technologies". The virtualised network uses a cloud-based architecture, and dynamic slicing "so slices can be given for different use cases", quality and service level agreements.
Dimitra Simeonidou, his counterpart at the University of Bristol said the testbed is only part of the story: "What we have created here is really teams, world-leading teams, with the skills and knowledge to actually bring the whole UK 5G story forward."