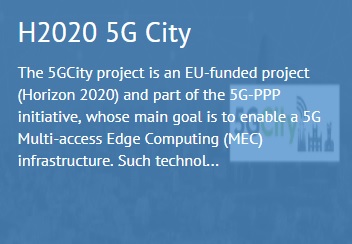 5GCity: developing CCAM and neutral host solutions
Smartlamppost is an emergent product which aims at solving smart cities' ability to grow and scale efficiently. According to its needs, it leverages urban furniture to elegantly provide (1) telecommunication capabilities, (2) EV-charging stations and (3) edge computing capabilities, providing a platform for innovative solutions to unfold, fostering a rich ecosystem of partnerships between different industry verticals.
Such innovative solution is powered by the research activities of 5GCity, where Ubiwhere is designing and developing a CCAM (Cooperative and Connected Automated Mobility) solution, leveraging Edge Computing, NFV (Network Functions Virtualization) and V-RAN technology. The overall goal of the project is to "build and deploy a common, multitenant and open platform that extends the (centralized) cloud model to the extreme edge of the network, (…) to solve the main open research challenges in the 5G-based edge virtualization domain previously mentioned, including the neutral host perspective in dense deployment environments such as cities", closely aligned with Ubiwhere's Smartlamppost vision.