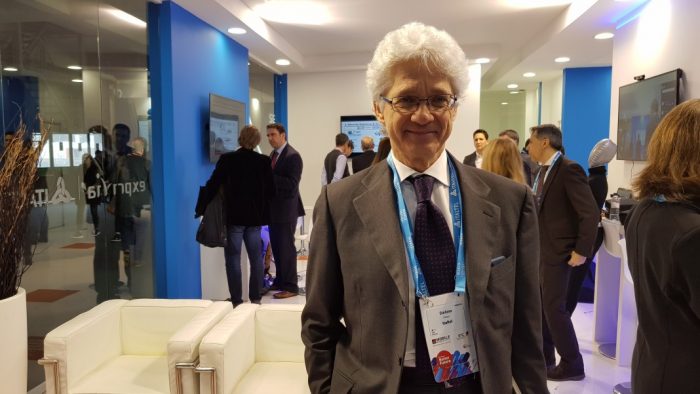 Italtel: betting on 5G and on the intelligent factory
Stefano Pileri, CEO of Italtel talks about a market that is finally giving signs of liveliness. A market where the new Italtel-Exprivia looks to the world of 5G networks as a strategic part of the business, precisely and in the country. "Our 5G applications enable the ability to share content at the edge of the network by speeding up the sharing of the network. Our 5G is the result of an open innovation project ". But at what point are we with the 5G, MWC 2018 bandied as really next?
"It is undoubtedly the Mobile World Congress of 5G – Pileri debuts in a chat – with a strong feeling that the 5G is accelerating. It was not to be taken for granted that the big telco rode the concept of 5G because it takes great work to upgrade the network without a clear business model. Instead it is happening. Deployment of the 5G is expected by the end of 2020, instead the developments under way for the second half of 2019. Telia, Tim, Telefonica are accelerating and even the big smartphone vendors have announced the first models for next year. Industry is accelerating ".
The data released by the organizer of the Mobile World Congress say that in 2022, after the deployment of the 5G, the prevailing mobile technology will be the 4G, with 2G and 3G finally put aside, while the 5G will have 6-7% of the market compared to the total. A slow but started path.
Three predominant concepts emerged from the MWC 2018 according to Pileri. The trend of Virtual Run (Virtual Radio Access Network) is being affirmed , pushed by the US to make open the radio access networks, which will mess up the hierarchies among the operators. "In a panorama of Open Run, new players are entering the market, which overwhelmingly affect the dominance of operators such as Huawei , Ericsson, ZTE and Nokia, " says Pileri. The name that goes the most is Altiostar that required a second round of financing ".
The second concept is Network Slicing: the network is profiled, sliced, configured according to the reliability it needs, to the benefit of the operation of the various applications, so that the network can concentrate its resources on critical applications and not stress the network for low profiling IoT applications.
The third trend is virtualization of the network, where everything becomes software. " Tlc networks are very distributed computer networks and bring the functionalities as close as possible to the terminals that use them, in mobile edge computing . Today we are witnessing the fact that the network functions must be brought as close as possible to the terminals, a process opposite to the cloud strategy of AWS, Microsoft, Google.   Applications must weigh less and less on the network and networks become distributed computer networks ". And he adds: "The antennas are made without any intelligence in the 5G world,since they are connected in fiber optic to a mini server located 20-30 km from the most remote point, which contains the intelligence of access networks. The antennas in this 5G scenario become a commodity linked to intelligence by optical fiber that allows us to make important revolutions, after the era of copper. The 5G is marketed only with intelligence in the edge "