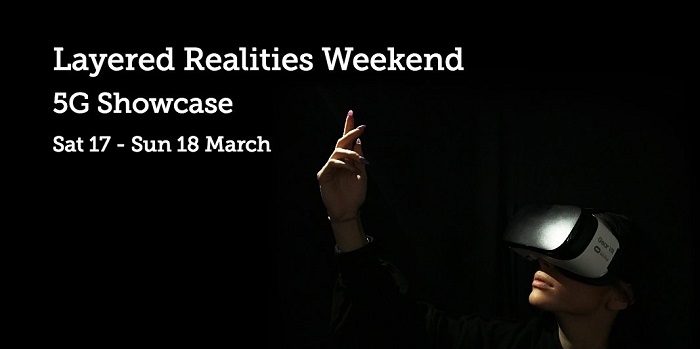 Be part of the future before it happens – Watershed and the Smart Internet Lab at the University of Bristol invite you to explore the future potential of the next generation wireless connectivity (5G) with this weekend of free events in Millennium Square and We The Curious.
There will be spectacular 3D-like projections, a gorgeous virtual reality dance piece, a guided tour on which you take a walk through time, and a programme of talks and demonstrations that are open for everyone. We need your help to take part in this research and experimentation to really engage with the opportunities (and challenges) that 5G technology presents.
We've asked artists and creatives to really test its capability and potential – in response they have created some brilliant, meaningful experiences that we would like you to come and try out for us. As part of the Layered Realities Weekend 5G Showcase we are also presenting two of our Playable City Commissions; Stop Smile Stroll and Shadowing which play with the idea of Layered Realities and the ways technology can bring new life to our cities. So if you want to be ahead of the curve (5G is due to be fully rolled out by 2020) then please come and take part.
As well as the events/experiences listed here, there will also be other activities and demos running in Millennium Square from 12:00noon on both Sat and Sun. You can choose to make a day of it or just turn up for one of the experiences in the weekend's programme. Check in at the temporary Box Office in Millennium Square on the day to get further details.
Tickets
Tickets to the Layered Realities Weekend 5G Showcase experiences and talks that are listed here are free but tickets must be booked in advance for each event. There will be a very limited amount of tickets available on the day from the temporary Box Office in Millennium Square.