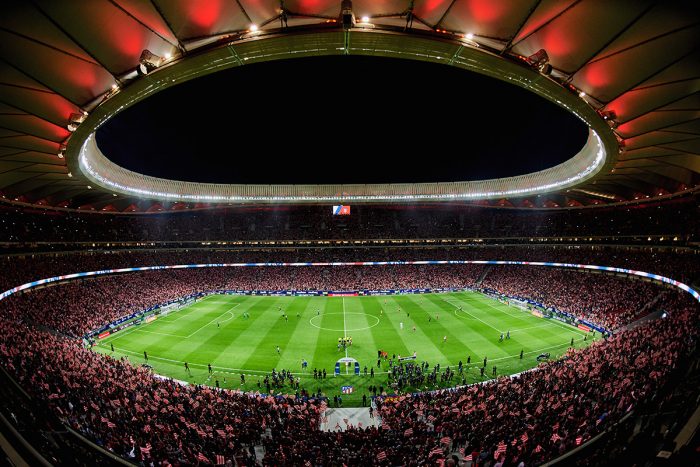 Cellnex connects the Metropolitan Wanda and prepares it for the 5G
Cellnex Telecom,  the leading European wireless telecommunications infrastructure operator, will take its position in the deployment of 5G networks and its extensive presence in Europe, with more than 24,000 locations, including Small Cells nodes , to the  new edition of Mobile World Congress.  and DAS (distributed antenna systems), located in six European countries: Spain, Italy, Holland, France, the United Kingdom and Switzerland.
Cellnex connects the Metropolitan Wanda and prepares it for the 5G
The new Atlético de Madrid stadium has been the first multi-operator and multiband stadium in Spain since last July . Cellnex has deployed a DAS (Distributed Antenna System) system, a network of sharable small-cells, which allows all mobile operators to offer high-quality, high-capacity mobile broadband connectivity to all their customers.
The deployment of this infrastructure in the football stadium improves the user experience and avoids the lack of capacity and communication that usually occurs in areas of high connectivity demand due to the conglomeration of a large number of simultaneous users, according to the company. in a press release.
"The Wanda Metropolitano stadium project is a flexible and neutral solution for voice and data operators operating in Spain, it is also scalable and, therefore, it is prepared to respond to the demand for increased data traffic in the Through a single shared network of antennas and equipment, Cellnex Telecom offers 2G, 3G and 4G coverage to all operators that wish to offer this real and mobile broadband service to their customers "Cellnex assures.
The individual infrastructure of each of the operators is received and managed in the "Technical Room" of Cellnex, which is responsible for its distribution through the network of small cells to offer full coverage in the enclosure -grads, boxes, corridors – and the surrounding areas, allowing the amateur an effective connectivity before entering the stadium. Cellnex has installed for it more than 200 antennas, camouflaged in the equipment of the stadium and about 90 remote units as well as more than 10 kilometers of optical fiber .
Cellnex already offers this service in the football stadiums of San Siro in Milan and Juventus in Turin, the metros in Milan, Genoa and Brescia, the Milan-Malpensa airport , the high-speed tunnels and the historic center of Milan.
In this edition of the Mobile, which will take place from February 26 to March 1 at Fira Barcelona,  the company will offer mobile connectivity multi-operator solutions to respond to the high demand of coverage in areas of high concentration of users, such as stadiums of soccer, shopping centers, metro lines and city centers.
In Europe, the forecasts point to the fact that the five most populated countries of the European Union, including Spain, will deploy between 200,000 and 500,000 small cells, until 2020. In Spain, the range will be between 30,000 and 75,000.