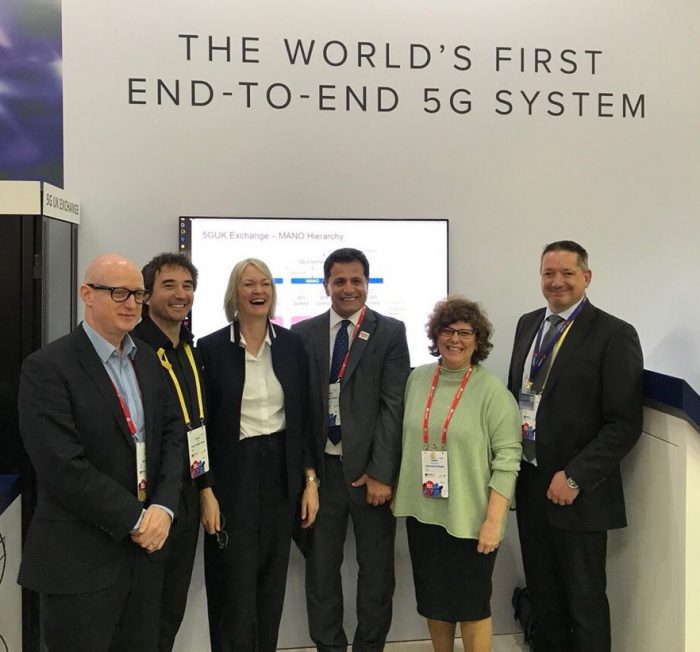 Bristol shows world's first 5G end-to-end network
Researchers from the University of Bristol are demonstrating the world's first end-to-end 5G wireless network at a major trade show in Barcelona this week.
The team, which includes researchers from the University of Surrey (5GIC) and King's College London, are allowing visitors at Mobile World Congress to control robot football players via the network. This is to show the very low latency of the network for real-time control applications.
The team is also showing the difference between today's 4G network and the 5G technology through the transmission of ultra-high-definition video using an intelligent mobile-edge computing technique. This has been a key part of making the whole 5G network operational, alongside the developments in the radio technology, and this software-defined networking (SDN) is one of the key areas for Bristol's Smart Internet Lab which is part of the UK's £16m national 5G testbed programme called 5GUK.
"Our testbed and trials programme has progressed to the stage where we can now provide meaningful demonstrations of full 5G network solutions," said Professor Dimitra Simeonidou (pictured right), Director of the Smart Internet Lab at the University of Bristol and Chief Scientific Officer for Bristol Is Open.
"Our pioneering joint research programme will pave the way for applications that could transform our lives, ranging across transport, health, education, entertainment.  We know that 5G will deliver the ultra-reliable and ultra-fast networks of the future – our job is now to demonstrate benefits, develop skills and support a rapidly developing 5G commercial ecosystem in the UK."
The lab has been working on Smart City and Smart Campus 5G deployment in the city, targeting real-life demonstrations of 5G services in urban environments.