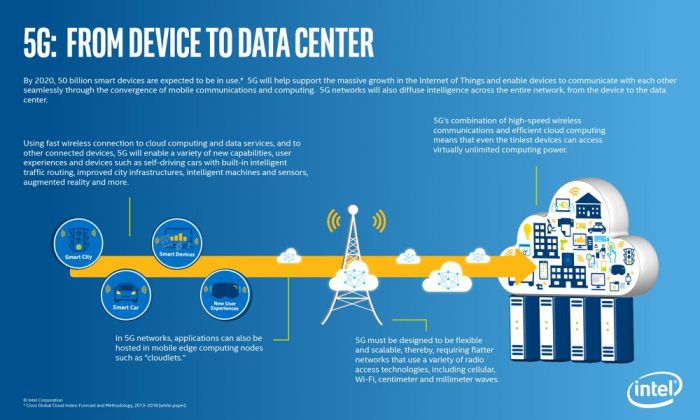 Intel will bring 5G to laptops in 2019
5G hardware is closer than you think.
Intel's upcoming XMM 8000 series modems will power 5G in notebooks in the second half of 2019, the company announced today. That'll include machines from Dell, HP, Lenovo and Microsoft. So, this means we'll see a 5G Surface next year.
You can expect their mobile network speeds to be blazing fast, naturally, but they'll also take advantage of 5G's low latency. That'll led you do things like play online games with the same responsiveness as a wired network connection.
To give us an idea of what 5G will look like in a laptop, Intel will also be showing off a 2-in-1 concept at Mobile World Congress next week. There aren't too many details about that device yet, but Intel says it'll demonstrate the power of 5G by streaming live video. Perhaps we'll see them running multiple 4K streams at once — something the company has demonstrated on desktops over the last few years.
While the tech world is holding its breath to see how 5G transforms our phones, it has the potential to signifcantly impact how we use PCs, as well. Integrated LTE connectivity is still a rarity in laptops today. But if the 5G networks are as fast as we expect, and Intel's modems make it easy for manufacturers to integrate 5G, there's a good chance we'll see even wider adoption. The new cellular technology is exactly what Intel and Microsoft need for their vision of "Always Connected" PCs — machines with incredibly long battery life and integrated network connectivity.
Intel has also signed up for a partnership with China's Unigroup Spreadtrum to integrate its 5G modem in its 2019 mobile platform. While that's not exactly a major brand to start with, I wouldn't be surprised if we saw more phone makers partnering with Intel soon. Qualcomm has had a huge headstart with its X50 5G modem, which will be powering devices from Sony, LG, ASUS and more companies next year. So, thanks to the competitive push, we expect to see Intel kicking its 5G plans into high gear soon.