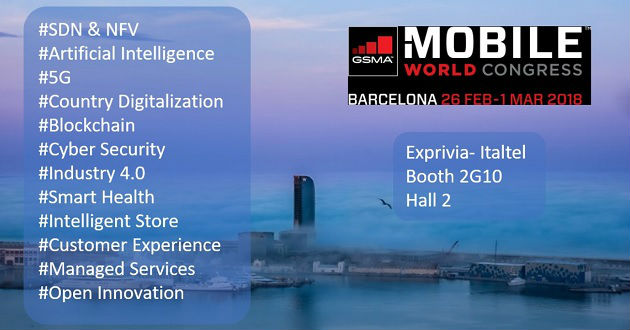 Italtel: NGN and innovative 5G enabled services at MWC18
Solutions for vertical 5G services – Industry 4.0, telemedicine, smart cities, media and entertainment – which leverage groundbreaking technologies such as the IoT and SDN/NFV will be exhibited at Mobile World Congress 2018, as Italtel and Exprivia empower telcos' and enterprises' digital evolution.
Following the integration between Exprivia and Italtel last December, a new company was created in the Italian industrial scene. This company will play a key role in the ICT sector, with its talented staff and cutting-edge technological knowledge capable of managing the entire value chain, from infrastructure components to applications and services.
"Merging into a single entity which combines Exprivia's Information Technology offering with Italtel's expertise in telecommunications sets the stage for the creation of a key player in the digital world at a European and international level," said Domenico Favuzzi, Chairman of Italtel and CEO of Exprivia. "With a strong focus on innovation, we want to be at the sides of service providers, enterprises and public administrations in their path to digital transformation."
Stefano Pileri, CEO of Italtel, said: "As the demand for data, new services and network performances continues to increase, operators must evolve their existing infrastructures to support full digitalization and meet current and upcoming market trends. In this environment, Italtel's and Exprivia's combined expertise can make digital transformation a reality, enabling the next era of connectivity."
Mobile World Congress will mark the companies' first exhibition since the integration, with their showcase including solutions that can be gathered under four main titles:
5G Services in fields such as Smart Cities, with an integrated platform to manage urban services; Smart Healthcare, with a telemedicine and remote assistance solution with the support of vocal assistance; Industry 4.0, with use cases that include easy and effective solutions for connected factory and connected industrial machines and solutions that use the man-machine dialog in natural language (based on chatbots).
Digital Infrastructure – ultra broadband and 5G infrastructures are the enabling factor for new services and a demo will highlight Italtel's vision on 5G infrastructure, according to the Multi-Access Edge Computing (MEC) paradigm and NFV logics. The demo will present a use case of fast and safe location-based sharing of high definition videos and other content in crowded places.
Open Innovation – two demos, both arising from Italtel's open innovation ecosystem, will present applications such as a smart locking app managed through a smartphone for use in different scenarios such as streamlining the operators' cabinet maintenance process, and a solution based on Blockchain for tracing and monitoring the food value chain.
Customer Experience – leveraging big data and analytics, a quality of service use case will be presented to demonstrate how a single control point can help enterprises improve the management of their telecommunications expenses.
Italtel and Exprivia will exhibit their solutions at Mobile World Congress – Stand 2G10, Hall 2 – in Barcelona from Monday, February 26 to Thursday, March 1.