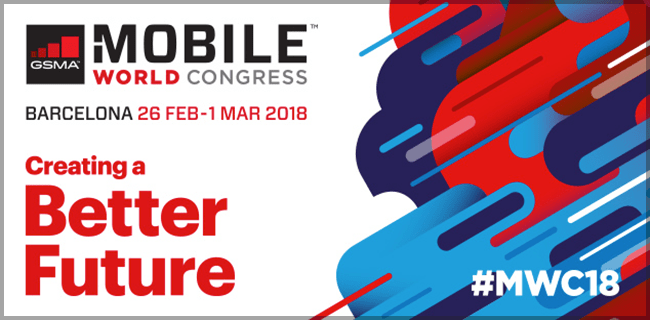 Barcelona, 26 Feb – 1 Mar 2018
With the theme "Build a Better Future," MWC 2018 will showcase developments in 5G, IoT, artificial intelligence (AI) and machine learning and digital transformation, with plenty of solutions and technologies being demoed. However, according to Strategy Analytics, more important than any technology-based solution is how they can be deployed to address fundamental business challenges which include improvements in efficiencies, delivering superior customer experience, and strategic opportunities for revenue growth. Away from the show floor these business issues will be the focus of the educational programs that MWC offers.
Retevision will have a booth where presenting the 5GCity project.
Visit us at CONGRESS SQUARE STAND CS64
NEC to Highlight 5G, Industrial IoT Opportunities at MWC 2018
NEC is going to place a strong emphasis on opportunities with telecoms and mobile carriers, and within the Industrial Internet of Things, at this year's Mobile World Congress, the company has revealed.
Announcing its lineup for the event, NEC asserted that the IoT and 5G networking technologies are putting increasing pressure on telecoms and carriers to manage high volumes of data while maintaining strong security. Recognizing an opportunity in this transformation, the company said it will aim to work with these organizations in "the co-creation of new business models for a wide variety of vertical industries, including the security, agriculture and transportation fields".
There are also going to be a number of GSMA-organized showcases in the Innovation City pavilion, including a connected punching bag that can monitor the power of each hit, RCS A2P messaging services enabling users to link up with chatbots, and a 5G-connected football field that will feature robots designed to mimic attendees' movements.
Mobile World Congress will run from February 26th to March 1st at the Fira Gran Via conference center in Barcelona